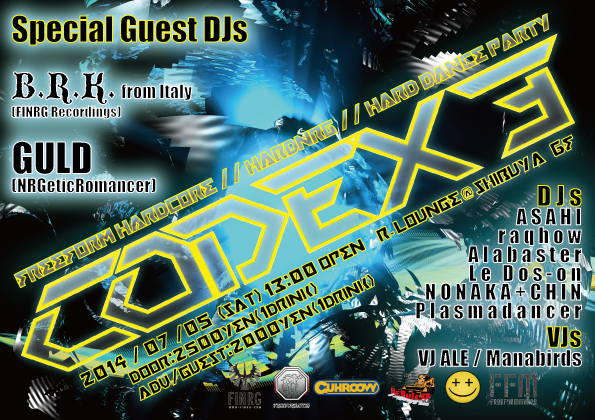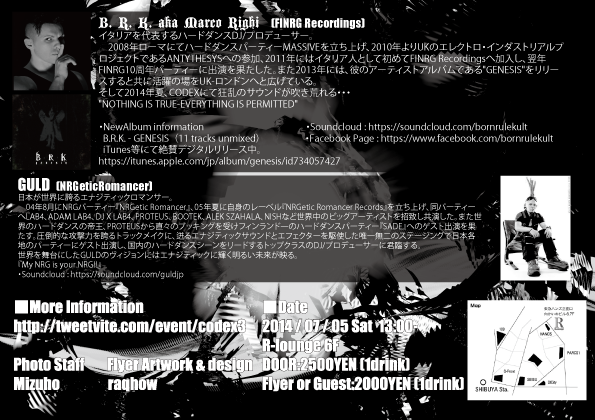 My first gig since the last CODEX will be…the next CODEX, with yet another fabulous lineup that really can't be beaten. I'm honoured to announce that I've now joined the regular roster of DJs, so the guests this time will be Guld and Italy's BRK.
This will be the first event for me and Guld to play together since NRGetic Romancer, while it's going to be pretty special to join up once again with BRK – the first time since 10 Years of FINRG. There'll be plenty of darkness from the three of us (I already have some plans, with one 'good-enough-to-build-a-set-around-it' connection ), but with a first CODEX set from ASAHI and a return for all the regular members, every DJ is a must-see.
Full lineup below, but don't forget to check the Facebook page for more.
SPECIAL GUESTS
BRK (FINRG Recordings) [IT]
GULD (NRGetic Romancer)
/_/_/ DJs/_/_/
raqhow (CODEX / Freeform Bros.)
NONAKA+CHIN (Freeform Bros)
Le Dos-on (Splash Energy/Relentless)
Plasmadancer (FINRG Recordings / NRGeticromancer)
Alabaster (Cradle to Grave)
Asahi ( Karma-業- )
/_/_/ VJs /_/_/
VJ ALE (RisingGENERATION / deeepa)
Manabirds (RisingGENERATION / iNSRiRE)
/_/_/ Photo /_/_/
Mizuho
/_/_/ What is Freeform hardcore? /_/_/
初心者におすすめできるフリーフォーム
http://togetter.com/li/461194
Freeform Hardcoreとは
http://freeformjp.tumblr.com/aboutfreeform
/_/_/ Special Thanks /_/_/
FINRG Recordings (Fin)
https://soundcloud.com/finrg-recordings
Freeformatted (UK)
https://soundcloud.com/freeformatted
Smiling corpse (UK)
https://soundcloud.com/smilingcorpse
Rebuild Music (UK)
http://www.rebuildmusic.net/
Guhroovy (JP)
http://www.guhroovy.com/
freeform forum.net / Freeformaniacs (Europe/Austrasia)
http://www.freeformforum.net/index.php
https://soundcloud.com/freeformaniacs